How it works
Whether it is your first ever Novated Lease, or your 10th Novated Lease, PFM will always guide and support you through the entire process from start to finish, ever step of the way.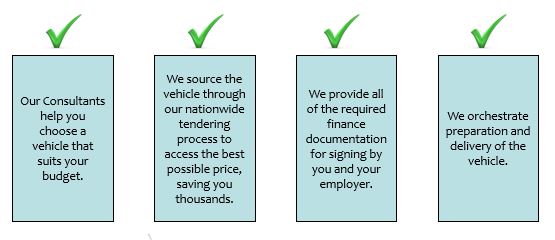 Consultation
Your Novated Lease Consultant will answer all of your questions and provide a detailed estimate of the costs and savings of any vehicle you are interested in novating.
Our schedule shows what effect a certain car will have on your take home pay, making it easy to select a vehicle and lease structure that suits your personal budget and needs.
We'll also show you how much your income tax can reduce by and how much GST and fleet discount you will receive.
This information will enable you to make an informed decision on whether or not to novate a car and if so exactly which one is best for YOU.
You've decided on a vehicle and want to go ahead
We'll get you to complete an application, then we'll organise the necessary paperwork for you and your employer to sign off once your finance is approved.
Ordering your car
Once the finance is approved we also order for your vehicle and liaise with the dealership directly to complete all of the necessary paperwork for the purchase.
Vehicle delivery
Once your Novated Lease documents are signed off, PFM will arrange payment to the dealership and at this point coordinate a delivery date for your vehicle.
Once your vehicle is delivered, PFM notify your payroll department by emailing them a Payroll Advice requesting they set up salary deductions and and pay them into your PFM vehicle account, to cover your finance and running costs.
Ongoing vehicle management
PFM use the funds in your vehicle account to your vehicle finance and running costs.
The fuel card we provide you is accepted by over 90% of service stations Australia wide and also offers a discount off the pump price of fuel at certain fuel outlets.
Whenever your vehicle is due for a service, repairs or tyres, simply drop your car off at the repairer of your choice and they will contact PFM for direct payment.