How it works
Whether it is your first ever Novated Lease, or your 10th Novated Lease, PFM will always guide and support you through the entire process from start to finish, ever step of the way.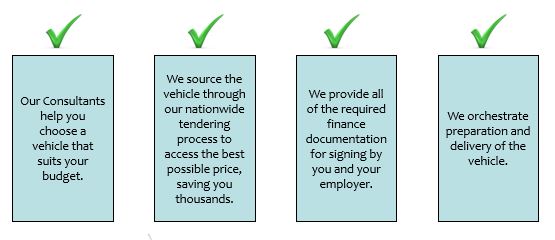 Consultation
Your Novated Lease Consultant will ask a series of questions to understand how we can best assist you in finding a vehicle and lease structure that fits into your budget.
We'll provide figures to help estimate the impact on your take home pay and the potential savings associated with the car you have in mind and guide you through the options available.
You've decided on a vehicle and want to proceed
We'll send you an application for finance pre approval.
Ordering your car
Once the finance pre approval is in place, we will source your vehicle at the best possible price and provide a detailed quote based on the final vehicle pricing. We liaise with the dealership directly and do all of the negotiating and necessary paperwork on your behalf.
Vehicle delivery
Once your Novated Lease documents are signed off, PFM will arrange payment to the dealership and at this point coordinate a delivery date for your vehicle.
Once your vehicle is delivered, PFM notify your payroll department by emailing them a Payroll Advice requesting they set up salary deductions and and pay them into your PFM vehicle account, to cover your finance and running costs.
Ongoing vehicle management
PFM use the funds in your vehicle account to your vehicle finance and running costs.
The fuel card we provide you is accepted by over 90% of service stations Australia wide and also offers a discount off the pump price of fuel at certain fuel outlets.
Whenever your vehicle is due for a service, repairs or tyres, simply drop your car off at the repairer of your choice and they will contact PFM for direct payment.